Many trans-o-flex employees are involved in voluntary work in addition to their jobs. The following report was sent to us by Tamara Karbe, the head of Distributions GmbH Würzburg:
I have several dogs and am a member of a dog club that received an interesting request five years ago: Would it be possible to visit the retirement home with our dogs once a week? Since then, I have been going to the retirement home almost every Friday with two dogs and have experienced amazing things. When the request arrived at the dog club, my then ten-month-old Labrador Balu had been prescribed a six-week break from sports by the doctor. The retirement home is only a ten-minute walk from my home. I thought: This is the opportunity to do something meaningful with my dog! But Balu got too big over time and the seniors didn't necessarily dare to pet him anymore. Therefore, after a year, my two smallest dogs, the Havanese Sky and Berry, accompanied me to the retirement home.
Sky is the absolute princess of the seniors! She cuddles with everyone and can sit on their laps for hours or lie in bed with them and enjoy the cuddles of the home residents. Berry is the clown. He dances, goes "please, please" and lets the residents feed him treats I have prepared.
It's wonderful to put a smile on the seniors' faces during visits! Many are already standing at the window, waiting for us and waving excitedly. And what is always a phenomenon for me and the caregivers is that we have seen many residents who don't speak all week. But when the dogs are there, they get a few words over their lips and beam all over their face.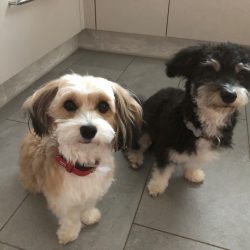 Sky and Berry are the stars at the retirement home on Fridays.