trans-o-flex insight the receiver app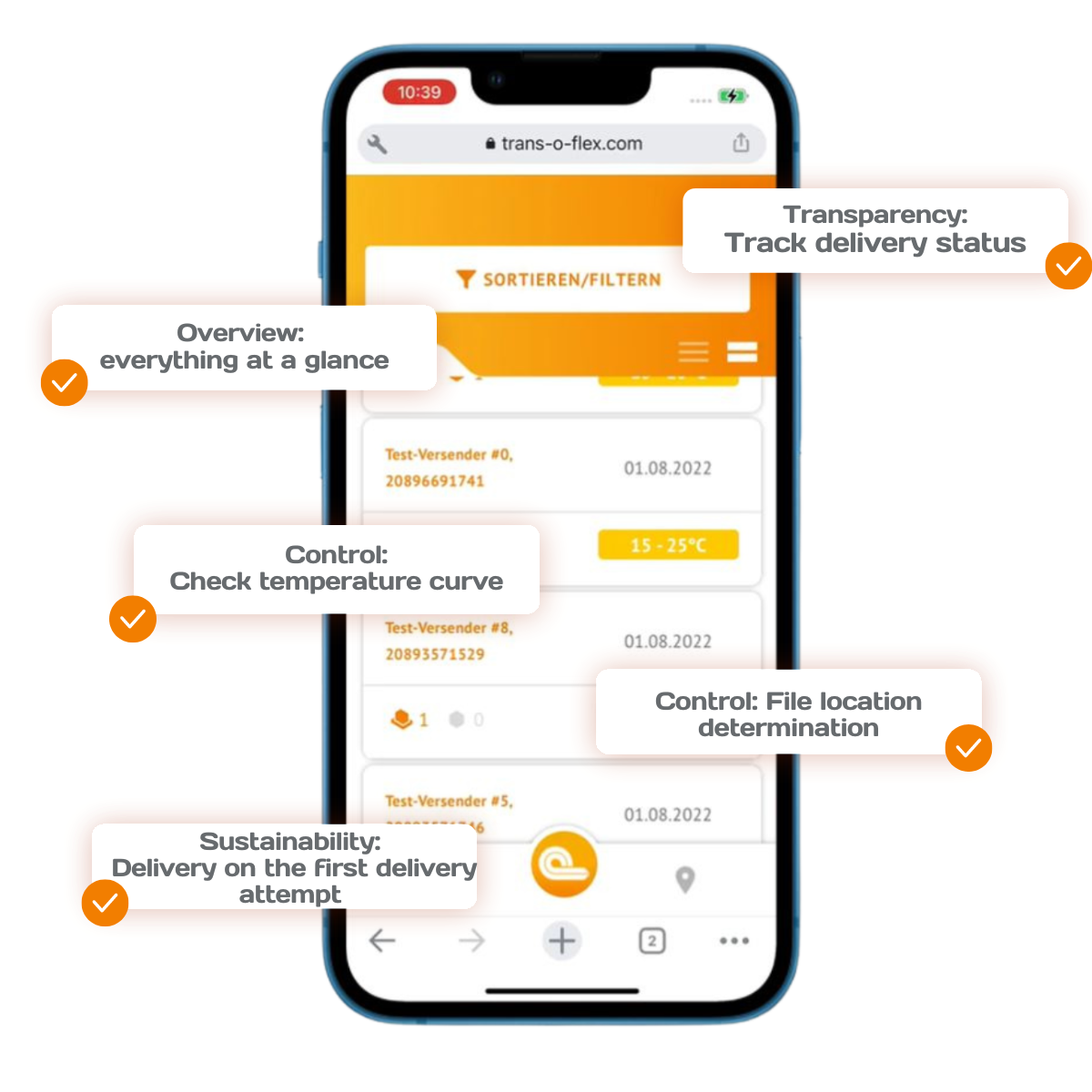 What is the trans-o-flex insight app?
The powerful trans-o-flex insight app ensures transparency and an optimal goods receiving process.
It informs recipients about their inflow of goods as well as shipment details on delivery times and temperature sensitivity.
Recipients can use the app to keep track of shipping orders easily and quickly.
Functions of the Insight App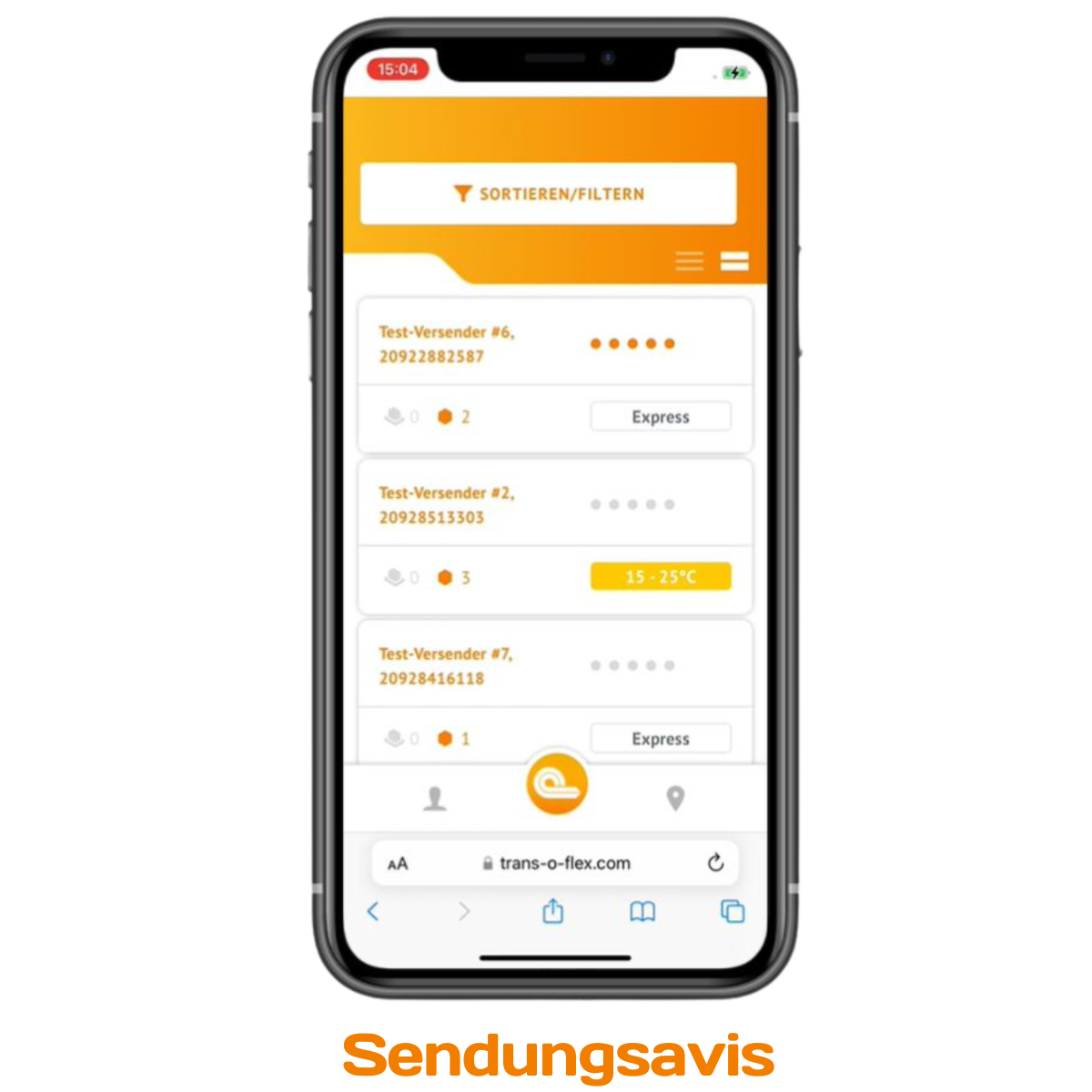 Source: 1
Shipment notification
Always one step ahead
In the overview of recipients at a glance all shipments that are on the way.
At a glance: Number of arriving packages, shipper, shipment details such as time options, COD shipments, dangerous goods or actively tempered packages.
Shipment details
A deeper insight
In the detailed overview, the recipient sees the details of a shipment, such as the delivery time, the weight, the shipment number or the shipment status as an overview or history.
Temperature control
Temperature control
The recipient sees that a temperature-controlled shipment is arriving and the detailed temperature curve. This function is available for Ambient Express (15 °C – 25 °C) and Thermo Express (2 °C – 8 °C).
Menu navigation
Overview functions
The recipient can change the view at any time and, for example, switch from the shipment overview to the profile or history.
Filter function
Sorting and filtering
The recipient can sort and filter shipments by package type, delivery time, date, shipping status, and product area or service. The settings can be reset at any time.
Parking permit
Set the desired location
It is possible to upload images from the desired storage location. It is also possible to define different storage locations for different types of goods. The trans-o-flex driver receives the following information on his handheld: "Goods may be deposited here". The storage permit can be revoked at any time.
Recipient authorization
Secure delivery with Ident Service
The recipient sees that a secure Ident item is being delivered. This is marked with a key icon. With the corresponding button, it is possible to display the Ident QR code. This identifies the recipient as the person authorized to receive an Ident item.
History
Review made easy
The recipient can research past shipments at any time. The history provides an overview of the past 14 days.
Personalization
Profile
With this function the recipient can edit the profile, change password and delete account. Note: when changing the address data, a new verification is necessary.
How can I delete or edit my personal data in the app?
How can I delete or edit my personal data in the app?
To delete specific data in the app, such as your activity and transaction history and images, without deleting your entire account, you can contact us. Please send an email and indicate which specific data you would like to remove. Our support team will help you delete this data from your account.
However, if you wish to delete your entire account, you can do so as follows:
Log in to your customer account in the app.
Go to the functions and click on the Profile section.
Select the option "Delete account".
Confirm your decision by following the instructions on the screen.
Please note that deleting specific data or the entire account are irreversible steps. This may prevent you from accessing certain functions or content in the app. Please ensure that you make an informed decision and, if necessary, back up your data before you start the deletion process.
For more information on how we process your personal data, please see our Privacy Policy.
Register now and enjoy benefits
Clear: all shipments within the last 14 days can be viewed at any time
Individual: design your daily view
Flexible: shipment data can be accessed at any time and from anywhere
Advanced: additional functions such as determining the drop-off location available
Time-saving: cumulative and automatic view of all expected shipments
Shipment tracking as a guest
You can also track the shipment without logging in. We only need three characteristics of a shipment: shipment number, postal code and house number.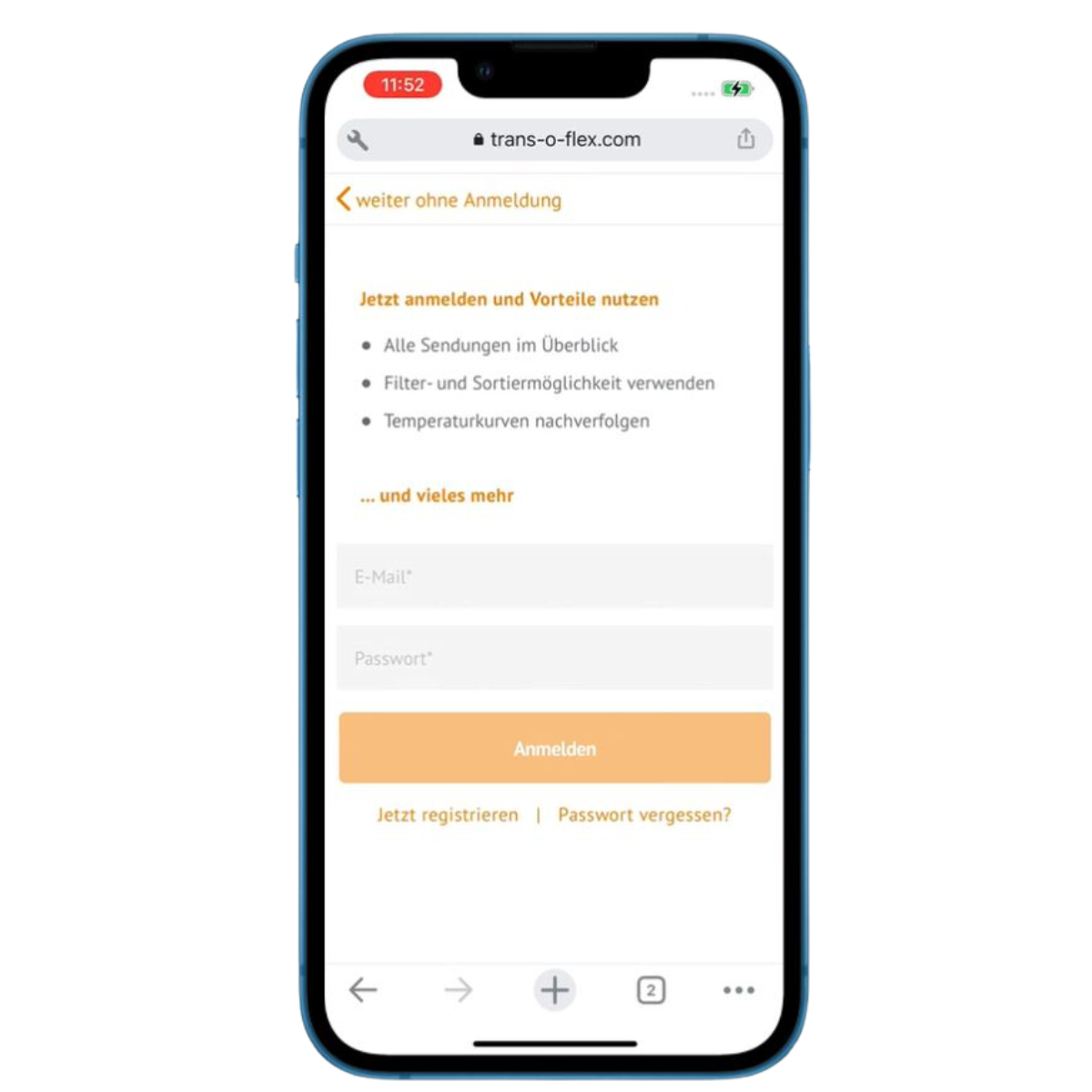 Digital companion on all devices
 Inform conveniently and at any time from any location.
Is there a web version?
Yes, there is a web version. Here you can track your shipment even without logging in. All you have to do is enter your shipment number, postal code and house number.
How do I register?
Here's how – instructions for recipients:
Download the app from the App Store or Google Play.
Click on "Install". This will allow you to download the app directly to their phone or from your laptop to determine which of their mobile devices to install.
Open the app on your mobile device.
Register or log in.
To register, go to "Register", enter your data and set your password.
trans-o-flex will send you an email with a PIN that you can then enter.
Enter your postal address.
You will then receive the insightTAN from us by mail. Please enter it to complete your registration.
I have not received my insightTan?
Go to the app and press the button, send insightTan again. Please check your address beforehand.
Shipment tracking even without an app?
You can also track the shipment on the web version. We only need three characteristics of a shipment: shipment number, postal code and house number.
Is the parking permit always taken into account?
In principle, yes. The shipper agrees to the delivery permission of all recipients, of the transport services ordered by him.
If the shipper does not agree to this or defines excluded recipients, the package is delivered in the standard process.
Interest aroused or still questions?
Our experts are there for you!